NABARD lead bank manager and DDM observations "I am very much impressed by the Bore well recharge of SRDS".
NABARD Nominated SRDS bore well recharge Rural innovation Award 2012.
SRDS selected top five of NABARD Rural innovation Award .
Many farmers and families can attest to the power of rainwater harvesting. Below is just one story of a farmer from Hubli and how his rainwater harvesting system helped improve his farming practices and change his life.
"I had never seen my bore well with so much water. It was like a miracle"
says Chitranjan, a farmer from Hubli who implemented a bore well recharge structure in his field in Kamplikoppa village in the Dharwad district. The bore well was dug in the year 1988 but was left unused due to a lack of water that lasted over two decades.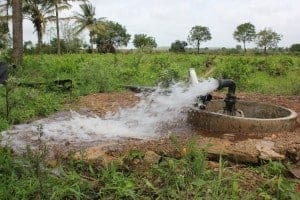 Chitranjan Kallannavar, in association with Sankalp Rural Development Society, recharged a bore well in his field which is now yielding excellent results. The bore well, which is now always filled with water, has solved many issues related to farming. He loves talking to people about the importance of water and the need for conserving and recycling the resource.
"I am very happy to have done this in my field. Bore well recharge has ended the water scarcity I was facing for many years", says Chitranjan.
Chitranjan met Mr. Sikandar Meeranaik, founder and CEO of SRDS, a year ago and learned about the bore well recharge work going on in his village. After speaking to Sikandar for an hour, Chitranjan started thinking about how having his own harvesting system could benefit his life. Work started in July 2010 and after only one week the recharge structure was ready and waiting for the rain.
Even after the construction, Chitranjan was skeptical about its usefulness until one day in late 2010 when it rained heavily. In just one day's time, his pond was filled, and he witnessed an excess of water in his bore well for the first time in years.
For more testimonials and news follow us on Facebook