Rooftops act as an excellent center for rainwater collection. If properly diverted, this water can be used in several ways: for drinking and household needs, agricultural needs, or to recharge bore wells and groundwater levels. Our rooftop rainwater harvesting system consists of different components that direct the rainwater to its planned destination. The roof acts as a catchment, collecting the rainwater that then flows through a series of pipes and filters before entering either a holding tank or going back via a small infiltration well into an underground bore well. This process of rooftop harvesting is simple, cost effective, and easy to maintain.
Benefits of Roof Water Harvesting
Save money on water bills by using your own water source
Watering for your garden
No wasting money on water tankers
No water shortage due to water cuts
24 hours water supply with no need to depend on water timings
Recover your installation cost within 2-3 years due to savings in water bills – this can be considerably less depending on the water demands of your building.
Savings of up to 200 liters of water per family in the society per day
Helps the environment through giving back to the water supply
Depending on your needs and the availability of either bore well or rain water tank, the solutions will be different.  For example if you have a 20,000 litre tank it will be filled very quickly – with a very short heavy rain.  Therefore we will need to construct percolation pits or soak pits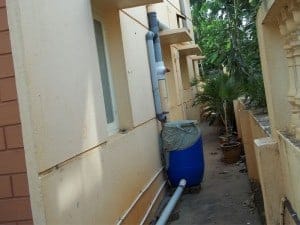 .
These are designed to divert rainwater back to the underground aquifer. They are made of a porous material and filled with pebbles or brick jelly and river sand and allow water to seep slowly back into the ground, thereby increasing the water table.
The other advantage to these pits is that flooding will be considerably reduced and the surrounding bore wells such as corporation bore wells will be recharged.
Roof Water Harvesting is a very cost effective solution for Industry as often industrial building will have huge roof surface and the amount of water which can be send back into the ground water will give the industry access to strong water flow from their bore wells throughout the dry season.